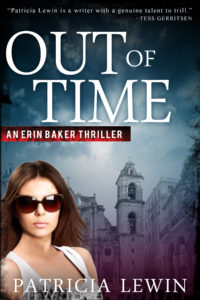 Out of Time (Book Two: An Erin Baker Thriller)
In Patricia Lewin's novel of breathless suspense, a shaken CIA officer returns to the field, drawn not by duties but by the chance to save a man's life . . . and to meet the father she hasn't seen in years.
Though Erin Baker has left the CIA, the people who once directed her career tap her to penetrate a medical aid group that may be hiding a sinister purpose. In Cuba, the organization's head doctor is Emilio Diaz, Erin's estranged father. Erin has the skills and a perfect cover to penetrate Castro's shadow world. She also has another reason to take the assignment. An ex-mentor, previously on the case, has vanished somewhere in Cuba.
Full of emotional landmines, this mission comes at a time when Erin's life is at a crossroads. Alec Donovan, a colleague at the FBI, is pushing for more than friendship, and he wants Erin out of the Agency's clutches. But Erin is already in-and though wanting to trust her charismatic father, she suspects that a dark plot is unfolding. Not knowing whom to trust or whom to believe, Erin fights her way deeper undercover until she is ultimately forced to make life-and-death decisions that will affect nations around the world.  Read an Excerpt.
---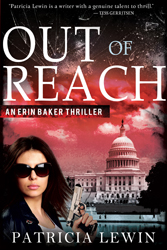 Out of Reach (Book One: An Erin Baker Thriller)

In her acclaimed novel, Blind Run, Patricia Lewin proved her brilliant command of heart-stopping tales of suspense—and the staggering human emotions that go with them. Now in Out of Reach, Patricia Lewin returns with a gripping new thriller—a gritty and terrifying story of a man and a woman entering a battle against an unseen evil . . . the kind that targets the most innocent among us.
CIA Officer, Erin Baker, is driven by a tragedy from her past. When she was a child, her eight-year-old sister, Claire, was kidnapped. Erin blames herself, and although Claire was eventually found, she was changed forever—as was Erin, who's since spent her life defending those unable to protect themselves.
Once a covert officer overseas, Erin now works in D.C., still gathering information for the most powerful intelligence agency in the world. But her life takes an unexpected turn when a child disappears near her home, and Erin becomes convinced there is a link to her sister's kidnapping case. She meets Alex Donovan, an FBI agent with an outstanding reputation for locating missing children, who's charged with finding the missing boy.
Suddenly Alex and Erin find themselves embroiled in a horrifying underworld where children are stolen and trafficked. And as they get closer to the truth, they and everyone they love become targets for a killer.
With its deeply-drawn characters, relentless pace, and powerful depiction of human courage in the face of danger, Out of Reach is a gritty, terrifying novel of a nerve-wracking race against time. With echoes of today's most shocking headlines, this is fiction at its most passionate and suspenseful.    Read An Excerpt
---
Ethan Decker was a specialized hunter for a CIA Shadow Organization, working deep undercover to track down and capture ruthless international mercenaries and fugitives. Then a daring mission takes a lethal turn, leaving innocents dead in its wake, and Ethan's wife a prime target of a ruthless assassin. To save her, and because he can no longer justify his actions, Ethan exiles himself to a remote desert in New Mexico, a prisoner of his own guilt and grief.
Then one searing day, a former member of Decker's covert team arrives at his door, shepherding two children. She entrusts them to his protection and leaves without explanation.
Suddenly, the race is on: to reach his ex-wife before the deadly assassin finds her, and to unlock the mystery behind the two children—who have become pawns in a dark conspiracy so evil that even this former spy cannot imagine the peril that lies directly in his path.  Read An Excerpt
---
Save